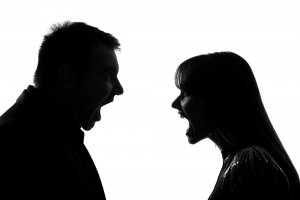 Anger is a universal problem. I have observed it in the primitive cannibals in Irian Jaya, uncivilized Indians in the remote jungles of Brazil, illiterate people in tiny villages deep in the forest of Zaire, my playmates when I was a child, in my parents, church members, pastors, highly educated people, the very rich, people in government, and yes, even in myself. Call it what you will:  mad, angry, frustrated, annoyed, perturbed, ticked off–all of these words represent a form of anger.
You cannot decide to be angry. You can take elaborate precautions to avoid being angry. But, alas, sooner or later, anger underneath your skin is triggered by a memory, someone's behavior, a conversation, a phone call, or a letter. It can cause your heart to beat faster, make you sweat, tense up your muscles, foul up your digestive system, alter the way you think, dictate how you act, and trigger negative words from your mouth.
There seems to be universal agreement that anger must be tamed. Yet there is vast disagreement over the cause and the cure.
I have been aware of anger within me as far back as I can remember. Usually I could ignore it, express it safely to people like my parents, swallow it, or work it off in various activities like tennis or basketball.
The first time that I was conscious that I could not manage my anger occurred in my late twenties. At that time, I had a boss who kept me riled up most of the day, a wife who persisted in frustrating me by doing things her way rather than my way, and a tiny toddler who irritated me constantly by simply wanting my attention when I didn't want to give it. These three people backed me into a corner. They didn't even know it.
They forced me to face up to the fact that there was something in me that was activated by them and turned me into a person who said things I was sorry for, did things that I regretted, thought things that frightened me, and caused my body (heart, stomach, and muscles) to malfunction.
The solution came for me when I was convinced that I was helpless and needed to be saved from myself. The Bible described my condition exactly: "Now if I do what I do not want to do, it is no longer I who do it, but it is sin living in me that does it" (Romans 7:20).
This sentence sums up what almost everyone says when they come to counseling with an anger problem: "My anger is a normal and justifiable response to the way I was treated."
No one inquires about the possibility of anger being a sin in his or her heart. That word has almost disappeared from their vocabulary. These people seek relief from restlessness, nervousness or anxiety. Their buzzwords are "stressed out" or "burned out." They are disturbed about their relationships with their spouses, children, other family members, social contacts or people at work or church. People admit anger reluctantly. If they do admit it, they are quick to justify it.
Individuals do come to seek advice when they are the recipients of someone else's anger. For example, a wife will talk to me about her husband: "When in a good mood, Ted is a pleasant person to be around, but if you catch him when he's mad–look out. I can tell his mood by the way he shuts the door. If he nearly breaks the window in slamming it, I brace myself for his first gripe."
And come it will, followed by other complaints. "Why don't you make those kids keep their bicycles out of the driveway?" "Turn off that TV. There's racket enough around here without that thing adding to it!" "Women drivers! They should it be kept off the highways after 3:00 in the afternoon!"
It is my observation that almost everyone resists calling any kind of anger "sin." Multitudes of people (including me) have faced up to problems such as drinking, swearing, or stealing as sin and now it's behind us. It's been dealt with.
Dealing with anger is different. You can be completely and totally repentant over your anger. Confession leads to welcome relief from tension. I suspect that most people experience some anger every week. You think you have dealt with it, and it shows up again.
I have observed that one difficulty in dealing with anger is the wide range of intensity with which it can be expressed. On the one end, there is such extreme anger that it leads to violent physical abuse or even murder. We have no difficulty recognizing such anger as sin. But, on the other end of the continuum, is anger that is so mild as to be almost unnoticeable. This "annoyance level" of anger is easy to ignore; for example, mild frustration at a child who won't make his bed, at a nearly empty gas tank in the car, at a traffic light, or at an impolite clerk.
You can compare anger to the flow of contaminated water into a tub. A wide-open faucet yields the same kind of water as a dripping faucet. One drop at a time will gradually fill a tub if the drain hole is plugged. It may take weeks to fill the tub with contaminated water, but eventually there will come a time when one more drop will make the water spill over the top. All that water came from the same polluted source.
Extreme anger is easy to recognize and impossible to ignore. The body pumps adrenaline into the bloodstream, causing the heartbeat to accelerate, the blood pressure to rise, the mouth to become dry, the muscles to become tense, the mental faculties to become alert, and the emotions to become disturbed.
A drop of anger is not as easy to recognize. To put it another way, it is easy to ignore. Bodily changes are hardly noticeable, but the effects are cumulative. The symptoms are anxiety, restlessness or tension. These drops of anger build up in the body. Eventually, one more incident (major or minor), and anger spills over the top. I listen to people who are puzzled over certain responses that surprise themselves:
"I heard myself screaming at the children to come into the house."
"I was so mad I actually hit her. It was over which tie I should wear."
"He lives a thousand miles away. At times, when someone mentions his name, I am fully consumed with anger in a matter of seconds."
What Biblical advice is there about the management of anger? Take a look:
For the wrath of man does not produce the righteousness of God. (James 1:20)

Beloved, do not avenge yourselves, but rather give place to wrath; for it is written, "Vengeance is Mine, I will repay," says the Lord. (Romans 12:19)

Let all bitterness, wrath, anger, clamor, and evil speaking be put away from you, with all malice. (Ephesians 4:31)
It seems clear to me that the Bible is telling us that God expects us to tackle the problems around us with His love in our hearts.
Read on:
But I say to you, love your enemies, bless those who curse you, do good to those who hate you, and pray for those who spitefully use you and persecute you. (Matthew 5:44)

Husbands, love your wives, just as Christ also loved the church and gave Himself for her. (Ephesians 5:25)

And you, fathers, do not provoke your children to wrath, but bring them up in the training and admonition of the Lord. (Ephesians 6:4)

Honor all people. Love the brotherhood. Fear God. Honor the king. (1 Peter 2:17)

Who shall separate us from the love of Christ? Shall tribulation, or distress, or persecution, or famine, or nakedness, or peril, or sword? For I am persuaded that neither death nor life, nor angels nor principalities nor powers, nor things present nor things to come, nor height nor depth, nor any other created thing, shall be able to separate us from the love of God which is in Christ Jesus our Lord. (Romans 8:35, 38-39)
The difficulty seems to be:  How can a human being, who naturally responds angrily to the circumstances of life, change from responding in anger to responding in love? Humanly speaking, we must admit that this Biblical advice is impossible to attain.
We all know that to bottle up or swallow our anger is not the solution. Bottled-up anger can ruin your health and twist your thinking. When we suppress our anger, it often simply flows out of us upon one more provocation – often in an explosive way.
The Bible offers a radical solution. The solution to our anger is humanly impossible. We need supernatural help. We must go to God!
Step 1: Recognize Anger as Sin
The Biblical prescription for dealing with destructive anger is precise and strong. Strife, malice, hatred, outbursts of wrath, dissension, contention, and the like are works of the flesh–of the sinful nature (Galatians 5:19-21, Colossians 3-8). They are sin, and that's good news because there is a divine solution for sin. God promised to help you. Dealing with sin is His specialty. Acts 4:12 says, "Salvation is found in no one else, for there is no other name under heaven given to men by which we must be saved."
A simple step that gives you a source of strength to "stop" angry responses is to invite Jesus to come into your life.
Yet many competent, able people have a hard time accepting the fact that we need supernatural help. "I can manage my anger. Isn't that good enough?" It certainly beats exploding. But the best you can do is to manage your anger. Only God can help you to "stop" because anger is sin. Therefore, you need a Savior who will cleanse you of your sins.
It is not inevitable that we must spend the rest of our lives struggling with anger. It can be "put away." Once we accept the fact that anger is sin and we need a Savior, we can practice a simple Biblical directive–daily, if necessary: "If we confess our sins, He is faithful and just to forgive us our sins and to cleanse us from all unrighteousness" (1 John 1:9).
Anger is sin. It is destructive. God will cleanse the anger out of our hearts.
Step 2: Replace Anger with the Fruit of the Spirit
When you have a forgiven, cleansed heart, you can ask God for the power of the Holy Spirit to produce the fruit of the Spirit in your life as described in Galatians 5:22-23: love, joy, peace, patience, kindness, goodness, faithfulness, gentleness, self-control.
You will still have problems, face injustices, and encounter difficult people–as everyone does. You will still need to be energized, alerted, and motivated to correct what needs correcting. But a Christian knows that a person energized by the Holy Spirit with love, joy, peace, patience, kindness, goodness, faithfulness, gentleness, and self-control has the strength to conquer the bitter and sarcastic words, anxiety, bodily tensions and violent behavior that formerly characterized him.
A Christian does not always surrender to God perfectly any more than he can manage himself perfectly. Few people make it through any given day perfectly. But with God's help, you can catch anger at the earliest possible point.
An elated, middle-aged gentleman told me this story:
Mike had made a poor decision that cost his company thousands of dollars. His boss called him and severely berated him over the phone. A contrite man hung up the phone and it rang again. It was his boss's boss, who proceeded to berate him also.
Mike felt himself becoming angry. Without interrupting the conversation, he repented and prayed for a peaceful heart. Before the conversation ended, he was fully relaxed.
When you realize you have sinned, take it to God. Our response to people and circumstances on the outside of us constantly reminds us of the condition inside us:  an imperfect spiritual life which seems easier to justify or deny than to face.
We have the need for daily renewal of our dependency upon God. No one is exempt. There is none righteous. There is no human remedy. Daily dependence on God for help does not gradually change to self-sufficient independence. You should deal with anger as sin just as soon as you are aware of it, regardless of how mild your response is. Confession and repentance pull the plug and cleanse the heart of any anger lurking there. Do it as often as necessary.
2 Corinthians 9:8 shares these wonderful words:  "God is able to make all grace abound to you, so that in all things at all times, having all that you need, you will abound in every good work".
And that is the good news for everyone who is filled with anger and malice and bitterness. The people in your life may never change their ways. Circumstances may be beyond your control. But fortunately you can do something about yourself. You can open your heart to God, who is able to fill it with bountiful grace. But whether you allow God to give you His grace is your decision.
Strangely, most people who seek counsel will argue that they have the right to be angry. "Under my circumstances, can you blame me?" they will say in stout defense. Of course they have the right to be angry; but as long as they argue in defense of their wrath, they will see no need nor have any desire to change and thus be delivered from the unhappiness of anger.
One of the most-quoted verses in the Bible is Ephesians 4:26:  "Be angry, and do not sin: do not let the sun go down on your wrath."
My clients uniformly declare that this verse means that their kind of anger is not sin. That may be true … but I don't think so. There is a part of that verse that is not debatable. Call your anger righteous if you will; this verse says to get rid of it by sundown.
How do we experience anger and not sin? The same way Jesus experienced anger–if we are walking in union with Him and in the Holy Spirit–by not allowing the sun to go down on the anger nor allowing the devil a foothold. Once we allow anger to become a motivating factor in our lives, the warning in James 1:20 applies:  "for the wrath of man does not produce the righteousness of God."
There is no human remedy. Only God can cleanse your heart. God commands us to walk in His Spirit. We are ordered to love evil people
A certain couple came to visit me. The lady sat there seething with animosity toward her husband. She had just learned that he had been unfaithful to her throughout their 30-year marriage. There were dozens of other women involved. Her husband sat there looking very contrite. He had a long history of deception, hypocrisy, and satisfying his lusts.
He claimed to be genuinely repentant. No one would believe him. They said he was only sorry he got caught. He said his wife, who was normally a pleasant person, had become an angry, hateful, unresponsive person. She said it was his fault. He didn't know what more he could do. He wanted to know if I believed him.
My answer? "God loves both of you enough to have sacrificed His Son for your sins and to give you access to the fruit of the Spirit. I love both of you, too, but I have no way of knowing the condition of your hearts."
The good news is that her husband's behavior could not come between her and God. She could call on God at any time and exchange her animosity for love, joy, peace, and kindness. All were available for the asking. Of course, she would still need to deal with her marital problem–even after a change of heart.
Her husband had the same access to God. He could exchange his sins for the fruit of the Spirit.
I have seen others sitting in the same chairs:
A woman unfaithful to her husband
A man who beat his wife's face into a swollen black and blue mess
A couple who swindled some widows of tens of thousands of dollars
A teenage thief who is on drugs or alcohol
A man tormented by the memory of raping and killing a woman
A woman who walked away from her husband and children
A teacher who sexually abused some students
A couple who disagreed over money, social life, or how to manage children
I can go on and on. The range of human behavior because of sinful hearts seems endless. I suppose the most serious are couples and parents who neglect each other and their children.
God loves them all; none of these people deserve it. They are all sinners–just a prayer away from a new start.
Unrepentant, intelligent people believe that they can justify their anger because God gets angry. This is why they comb the Gospels for any shred of evidence that Jesus got angry. The term "righteous indignation" just blurs the issue. Perhaps 95 percent of anyone's anger is plain, old-fashioned sin and we all know it. Anger plagues everyone. We should simply face it and take Jesus up on His offer:  "Come to Me, all you who labor and are heavy laden, and I will give you rest" (Matthew 11:28).