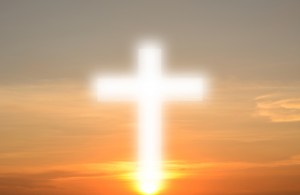 How can you be born spiritually and begin a personal relationship with Jesus Christ? It is easy to stumble over the simplicity of what God offers us through His Son. You are born again or saved when you believe Jesus. He said that you have access to the peace of God through Him. The starting point is when you ask Him to invade your life…when you open the door and invite Him in.

He said: "I will come in." You either can or can't point to a moment in your life when you made that decision.
Jesus said about Himself:
I am the way, and the truth and the life; no one comes to the Father, but through Me (John 14:6).
Behold, I stand at the door and knock; if any one hears My voice and opens the door, I will come in to him, and will dine with him, and he with Me (Revelation 3:20).
For God so loved the world, that He gave His only begotten son, that whoever believes in Him should not perish, but have eternal life (John 3:16).
I once proposed this step to a disturbed client. He became more disturbed.
"Don't hand me that stuff," he said. "I've asked God for help many times, and it doesn't work."
"When did you ask Him to come into your life?" I asked.
"I've been a Christian all my life," he said. "I grew up in church."
I persisted. "When did you ask Him to come into your life?"
"I can't remember," he said.
To make this step more clear to him, I asked if he remembered when he purchased his last car. That he could remember. He also admitted, when I asked, that he purchased the car by a specific action. He didn't purchase it by simply thinking about it…or about its construction…or by considering all the standard equipment, etc. Only when he agreed to the deal, did he purchase the car. He definitely remembered that.
He also remembered exactly when he got married, when he accepted airplane tickets for his last flight, when he accepted his present job.
You are born again when you ask Jesus to invade your life. Otherwise, it's no deal. Jesus is the way to God's peace. To let Him into your life gives you access to the resources of God: peace, joy, hope and patience.
Then you can put everything and everyone into His hands. You can stop striving and let His peace guard your heart, mind, and body.
I once spoke with a woman who had had continuous headaches for several years. Medical tests and x-rays could not isolate the cause. Medication didn't help. She finally came to realize that she hated the snake of a husband she had divorced several years ago.
She realized she was only punishing herself nursing hatred toward someone who was 3,000 miles away. She asked Jesus to come into her life and give her His Spirit and take the hate away.
She said, "This is the first day in several years that I didn't have a headache."
At a conference where I was speaking, another lady approached me about her husband. They had been married some twenty years. They were active in religious circles. He was even an elder in the church. But he kept a bottle of vodka in his office and was usually a little drunk when he came home. He demanded a hot meal every night, even though his arrival time was unpredictable. Then he expected her to sit with him to watch television and pour his drinks for him.
Since the children were out of the house, this relationship had become unbearable. She had never complained to her husband, she said, and faithfully served him. But, she was consumed with rebellion, resentment and anger. She couldn't stand it much longer!
I pointed out to her that she had two problems. Her husband was obviously one of them. He was inconsiderate, selfish, and demanding. But her most serious problem was what went on underneath her skin.
"But I have served him faithfully," she protested. It did appear that her behavior was beyond criticism. She doggedly was living up to the letter of the law. But, God's Spirit was missing.
"But, my husband just thinks about himself."
I listen to this line of reasoning constantly. "My inner life is caused by people or circumstances. How else do you expect me to respond? Am I supposed to enjoy such treatment? Haven't I put up with this long enough? Don't I deserve some consideration, too?"
This dear lady was convinced that her inner life was in the hands of her husband. Several months later, I received a letter from her. It is printed here (in part):
Nothing has changed in our marriage, but I am contented. I felt so angry with you for what you said to me about myself–but you were right! Before that I hadn't really recognized my own sin. God had to do some throwing down in my life, and that is never pleasant at the time, but the result is beautiful if you are submissive to the strong hand of God.
He has forgiven and cleansed and filled my heart with joy.
Our reactions to difficult circumstances are often anger, bitterness, stubbornness, rebellion, and hate which becomes intolerable. The idea that the people and circumstances involved merely reveal, rather than cause, their reactions is frequently rejected. The possibility of becoming a loving, peaceful, joyful person without the people or circumstances changing is an unpalatable option. If nothing changes, we prefer to be mad rather that glad.
Why do we do this to ourselves? Jesus, who knows all about us, says:
"And this is the judgment, that the light is come into the world, and men loved the darkness rather than the light; for their deeds were evil. For everyone who does evil hates the light, and does not come to the light, lest his deeds should be exposed. But he who practices the truth comes to the light, that his deeds may be manifested as having been wrought in God" (John 3:19-21).
There it is. We tend to turn away from such light. The more brilliant and educated we are, the more we are capable of coming up with endless varieties of ways to justify ourselves.
However, there is hope. When we finally quit running, the Lord will search our hearts, show us our selfish ways, clean us up, and fill us with His strength.
This is an excerpt of chapter 7 from Dr. Brandt's book I Want Happiness Now! currently available as an e-book.
Want more? Click here…
>> Find life-changing insights arranged topically by need
>> Listen to dynamic audio messages by Dr. Brandt