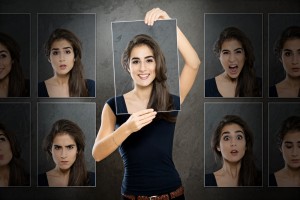 Are you feeling hurt, furious and mad as can be, because of a circumstance or a person? But when you are asked "How are you?" you smile and say "I'm fine."
For some reason, we think that Christianity is to control our emotions. We think "As long as I don't let my anger show, I'm being a good Christian." Unfortunately, holding it in isn't dealing with it. The Christian life isn't a matter of improving your acting ability. It's a matter of yielding yourself to God's Spirit, in whatever circumstances you might find yourself.
The key to making that change is found in scripture.
Ephesians 4:31-32 (KJV) tells us to "Let all bitterness, and wrath, and anger, and clamor, and evil speaking be put away from you, with all malice. Be ye kind one to another, tenderhearted, forgiving one another, even as God for Christ's sake hath forgiven you."
"After the way I've been treated! Why should I be expected to change? What about the other person?"
Now what? You're in a struggle! It's easy to get angry with the Bible. But in reality, God's Word has a way of convicting us.
"Alright," you think. "I'll just make up my mind to obey these scriptures, and I'll be fine." But when it comes to actually doing what the Bible says, we find it is impossible. You can't just "crank yourself up" to do it. Second Corinthians 3:4-6 (KJV) explains why. "Such trust have we through Christ . . . not that we are sufficient of ourselves to think anything as of ourselves."
You may be thinking, "What do you mean, I'm not sufficient! Why, I've done many things without God's help."
But the remainder of the verse is the key for us. "Not that we are sufficient of ourselves to think anything as of ourselves; but our sufficiency is of God; who also hath made us able ministers of the new testament, not of the letter, but of the Spirit."
One thing you can't do for yourself is control your spirit. You need the Holy Spirit to control your spirit!
The solution to all of this is in Matthew 11:28-29 (NIV), "Come to me, all you who are weary and are carrying heavy burdens, and I will give you rest. Take my yoke upon you, and learn from me; for I am gentle and humble in heart."
With Jesus, you'll be willing to have a gentle, humble heart. The prayer that will work for you won't be "Oh God, change this person." Instead, it will be, "Oh God, give me a gentle, humble heart toward this person, just as they are." It's not a matter of the other person changing, but a matter of you changing – yielding your spirit to Jesus.
Asking Jesus into your life is a simple step. Just ask Him and He will come in. Then, as you yield to His Spirit, you will experience the difference between being happy and seeming to be.
Read Ephesians 4:31-32, 2 Corinthians 3:4-6, and Matthew 11:28-29.
Take a step . . .
Is there a situation in your life where are simply "acting" as if you are a Christian when deep down inside you are really filled with anger? Confess your sin to God and ask Him to fill you with His love for the person with whom you are having a difficult time with. Depend on God to change your attitude and behavior.
This summary is from Dr. Brandt's message, Biblical Inner Spirit.
Want more? Click here…
> Find life-changing insights arranged topically by need
> Listen to dynamic audio messages by Dr. Brandt