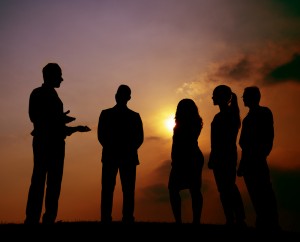 Are you heading into a project and wondering how to manage it? It can be simple if you follow a few basic management principles. These principles involve scanning the horizon to find the right people, and taking the trouble to see to it that there's training available for them. Then you must take a chance as they apply their minds to your business.

Establishing goals is vital. If you're fearful of setting goals and objectives because they hem you in, remember they're not cast in concrete. They can be changed whenever necessary. You'll do the best job setting your goals using the indicators you currently have. If you've set yourself on the wrong course, just lay your plan out again, recognize that you've missed your goal, and change direction.
Write job descriptions for the people that work for you, and remember you are the one who sets the policies and the guidelines. As the leader, you are the one setting the direction, getting the day-by-day operation done through other people. The wonder of management is that you get your work done through other people who follow through on what needs to be accomplished.
When you want a project done and know nothing about it, it's important to delegate it to the people that do know and turn the responsibility of doing that project over to them. That's management – simply finding the sharpest, keenest, most qualified people in your organization to do what needs to be done.
When you put to work the most qualified and the most knowledgeable people you can find in the area of their expertise, then you'll be free to function in the area of your expertise. That's not laziness. You are doing it together. You hold up your end as a leader, and they hold up theirs.
As a leader, you need to walk in the Spirit, leading your people in the ways of the Spirit. Take lots of time to think, to read God's Word, and to dream. Schedule "nothing" for a period of time, so that you are rested, clear-minded, and spiritually refreshed. Then you'll be fired up and ready to share with your people a word that will turn the light on in their thinking and doing – something that will spur them on.
Having a message burning on your heart that you can't wait to share with your people is one of the first ways of establishing rapport and confidence in you, and your people will want to help you with whatever project is important to you.
And this was what the Apostle Paul was saying in Romans 1:11-12: "I long to see you, that I may impart unto you some spiritual gift, to the end ye may be established; that is, that I may be comforted together with you by the mutual faith both of you and me."
It's wonderful to watch your staff grow in knowledge, experience, and grace, and to watch your projects expand as you work together. As a leader, you don't have to do the project. You just have to see that it gets done. That's management.
Take a step . . .
Begin to head into a project that's on your heart, using the basic principles of goal setting, delegating, and dreaming.
This summary is from Dr. Brandt's manuscript The Need to Delegate and Follow Up.
Want more? Click here…
>> Find life-changing insights arranged topically by need
>> Listen to dynamic audio messages by Dr. Brandt