Feeling restless? Discontent with your circumstances? Does it seem that nothing ever satisfies?
Dissatisfaction's family of behaviors includes envy, coveting, complaining, ingratitude, theft, and greed. These can be replaced with contentment.
Discover how to overcome dissatisfaction in its various forms through time-tested insights that really work!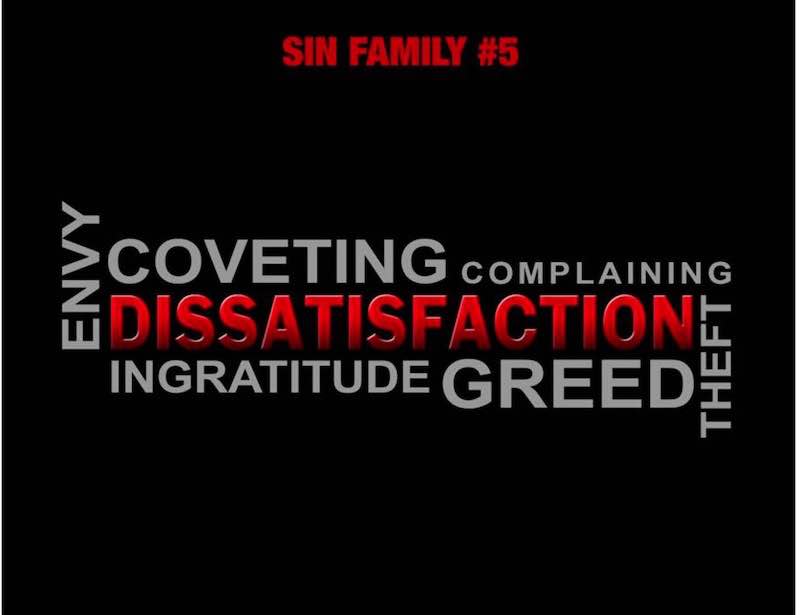 Self-Test
Are You Dissatisfied? The following self-evaluation quiz will help you determine whether you have a tendency toward dissatisfaction.
Do you dwell on what you would like to have more than on what you do have?
Do you complain to others or God about what you are lacking?
Do you neglect to thank God for the good things He has given you?
Do you look at others' advantages in life and wish you had what they have?
Do you scheme to gain more money and possessions than you really need?
Are you tempted to take what belongs to others?
Do you think of your possessions as belonging to you rather than to God?
We have so much, but we want more. If somebody else has got it and we do not, we want it. Even if we do not need it, and even if God has offered no indication that He wants to give it to us, we think it has got to be ours. This attitude goes by the name of envy or jealousy or covetousness. (For our purposes, we'll use the words interchangeably.) Whatever you call this attitude, it is an improper craving for something another person possesses to such an extent that you cannot be happy unless you have it. It is a sinful desire for things that belong to your neighbor. (read more)
Are you struggling with some type of dissatisfaction, such as envy, complaining, or greed? We have outlined a five-step process to help you change and heal in this area of your life. Take all the time you need with each of the steps included in this process. (read more)
Ryan was a star athlete and the top student in his high school class. When he received his diploma, he was disappointed. He had thought there would be more satisfaction than he experienced. He entered Harvard College and received recognition and satisfaction from playing on the varsity football team. In the classroom he was a top student. But when he received his diploma, he was disappointed not to experience satisfaction from this accomplishment. So he looked eagerly to law school at Yale, completing that program with top honors. Once again, receiving his diploma left him with a vague feeling of emptiness and the thought that there must be more to life than this. When he received an invitation to join the prestigious law firm of his choice, his career was off to a good start. Then he and his wife designed and built their dream house. They looked forward to the day they would take possession; when that day came, there was no joy. There was an emptiness that career and marriage could not fill. "When that day came," he said, "we realized there had to be more to life than this." (read more)
Keep your lives free from the love of money and be content with what you have, because God has said, "Never will I leave you; never will I forsake you." (Hebrews 13:5, NIV)
Godliness with contentment is great gain. For we brought nothing into this world, and it is certain we can carry nothing out. (1 Timothy 6:6-7, KJV)
Let your conduct be without covetousness; be content with such things as you have. For He Himself has said, "I will never leave you nor forsake you." (Hebrews 13:5, NKJV)
Don't wear yourself out trying to get rich. Be wise enough to know when to quit. In the blink of an eye wealth disappears, for it will sprout wings and fly away like an eagle. (Proverbs 23:4-5, NLT2)
Think about the things of heaven, not the things of earth. For you died to this life, and your real life is hidden with Christ in God. And when Christ, who is your life, is revealed to the whole world, you will share in all his glory. So put to death the sinful, earthly things lurking within you. Have nothing to do with sexual immorality, impurity, lust, and evil desires. Don't be greedy, for a greedy person is an idolater, worshiping the things of this world. Because of these sins, the anger of God is coming. (Colossians 3:2-6, NLT2)
I know what it is to be in need, and I know what it is to have plenty. I have learned the secret of being content in any and every situation, whether well fed or hungry, whether living in plenty or in want. I can do everything through him who gives me strength. (Philippians 4:12-13, NIV)