Are you often late for appointments no matter how hard you try to change? Do you leave work, school or other projects to the last minute? Are you always stressed out because you can't find things? Irresponsibility's family of behaviors includes laziness, apathy, procrastination, negligence, and disorderliness. These can be replaced by diligence.
Discover how to overcome irresponsibility in its various forms through time-tested insights that really work!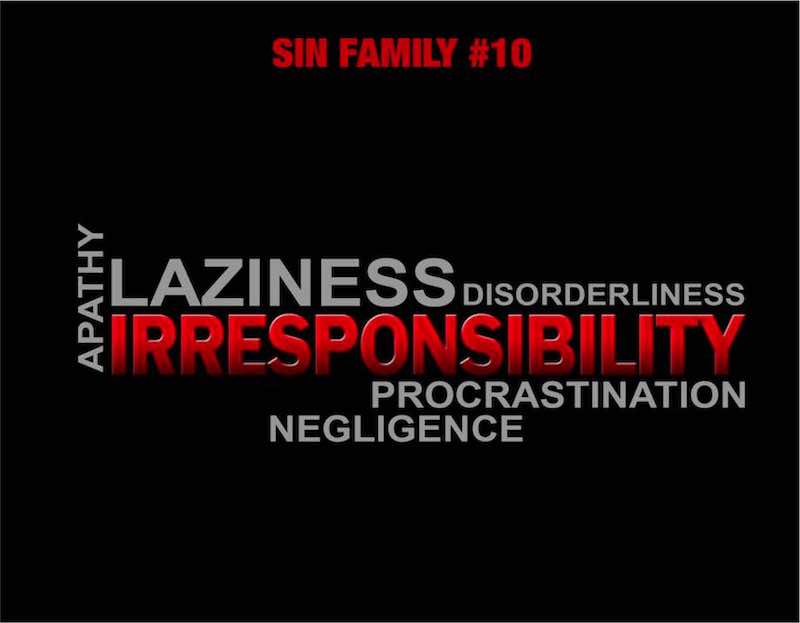 Self-Test
Are You Irresponsible?
The following self-evaluation quiz will help you determine whether you have a tendency toward irresponsibility.
Do you sleep more than you need to?
At work, do you watch the clock and worry more about looking busy than about being productive?
Does your boss feel that he or she must keep an eye on you?
Do you often forget appointments or show up late without any good reason for it?
Do you put things off that you know you need to do?
Do you start projects and then leave them undone?
Do you have trouble finding what you need in your home or workspace?
Do other people criticize you for carelessness?
At night, do you ever look back on your day and wonder what you accomplished?
Has it been a while since you were excited about anything you were doing?
Irresponsibility manifests itself in many ways. Some people are irresponsible with time. They are habitually late for engagements, causing other people inconvenience as a result. Or they procrastinate, putting off doing what they know they ought to do. Others are irresponsible with material objects. They borrow things from others and either forget to return them or else let them become damaged while in their possession. Or they may take poor care of their own possessions, letting their homes and workplaces get messy or run down. They forget that "God is not a God of disorder but of peace" and that we are to "be sure that everything is done properly and in order" (1 Corinthians 14:33, 40).
Some people seem to be negligent, careless, and inconsistent in every area of life. Should you depend on them to fulfill what they promised? You had better not. Should you trust them to help you out if you are not keeping an eye on them? Certainly not. (read more)
Are you struggling with being irresponsible? We have outlined a five-step process to help you change and heal in this area of your life. Take all the time you need with each of the steps included in this process. (read more)
I can remember how when I was a teenager I tried to talk my mother into letting me go out after she said I could not go. I approached her with something like this, "Awe, come on Mom, won't you please let me go out? Please, Mom?"
I tried to make myself look and sound as pathetic as possible, appealing to her sympathy and her motherly instinct. Surely she would concede to someone who was pleading as much as I was. (read more)
If someone has enough money to live well and sees a brother or sister in need but shows no compassion–how can God's love be in that person? (1 John 3:17, NLT2)
Never be lazy, but work hard and serve the Lord enthusiastically. (Romans 12:11, NLT2)
"Those unwilling to work will not get to eat." Yet we hear that some of you are living idle lives, refusing to work and meddling in other people's business. We command such people and urge them in the name of the Lord Jesus Christ to settle down and work to earn their own living. (2 Thessalonians 3:10-12, NLT2)
I delight in your decrees; I will not neglect your word. (Psalm 119:16, NIV)
In the name of the Lord Jesus Christ, we command you, brothers, to keep away from every brother who is idle and does not live according to the teaching you received from us. (2 Thessalonians 3:6, NIV)
Do not neglect your gift … Be diligent in these matters; give yourself wholly to them, so that everyone may see your progress. (1 Timothy 4:14-15, NIV)