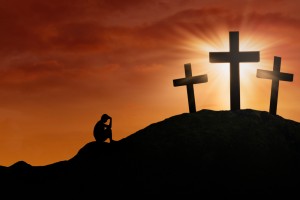 Sometimes it's a good idea to reflect on our behavior! Are we truly living the abundant life God has for us, or are we settling for less? One of the ways we can think about this is to ask ourselves, "Am I carnal or am I spiritual?" These are two biblical words with important implications. Knowing what these words mean, and understanding how they play out in our lives, can determine the difference between having effective human relations and poor human relations.
Paul describes carnality this way: "For whereas there is among you envying, and strife, and divisions, are ye not carnal?" 1 Corinthians 3:3 (KJV).
Envy, strife and divisions can display themselves in all kinds of ways:  temper tantrums, blowing your top, crying, sulking, unresolved issues, even what many of us would like to call "self-expression." These are often simply our own adjustments to carnality. A baby has temper tantrums, or pouts, or shows some other expression of being upset. That's his way of talking, of expressing his feelings. But we all know that at some point adults need to "grow up" and stop displaying these kinds of behaviors.
To be living the abundant life, we all need a power that's not our own. It's called the work of the Holy Spirit, and it produces love and joy and peace and patience and gentleness and goodness and faithfulness and meekness and self-control.  When we are experiencing these qualities in our life, we are living spiritually.
We're talking about your life as impacted by your relationship with the Lord.
Man was created to have fellowship with God. Because of his own stubborn self-will, he chose to go his own independent way, trying to reach the abundant life through his own efforts. Fellowship with God was broken and this self-will was characterized by an attitude of active rebellion or passive indifference.
A biblical tract entitled, "The Four Spiritual Laws" states:
"As there are physical laws that govern the physical universe, so there are spiritual laws that govern your relationship with God."
The first spiritual law is, "God loves you and has a wonderful plan for your life." In John 3:16 (KJV), we read, "God so loved the world that He gave His only begotten Son that whosoever believes in Him should not perish, but have everlasting life."
Jesus said "I came that they might have life, and have it abundantly" (John 10:10, NIV). Maybe you're not experiencing this abundant life. You want it and you are seeking it, but you are not experiencing it.
Here's the second law: "Man is sinful and separated from God and thus he cannot know and experience God's love or His plan for his life."
The third law gives us the only answer to this dilemma. "Jesus Christ is God's only provision for man's sin, and through Him, you can know and experience God's love and plan for your life."
God has bridged the chasm that separates us from Him by sending Jesus Christ to die on the cross in our place.
But it isn't enough to know these three laws, there's one more step. "We must individually receive Jesus Christ as Savior and Lord, and then we can know and experience God's love and plan for our lives."
"For as many as received Him, to them gave He power to become the sons of God, even to those who believe in His Name" (John 1:12, KJV).
Inviting Christ to come into your life makes the difference. Why? Because if you're going to deal with your carnality, you need a power that is not your own. Jesus Christ is the resource that will help you in your human relations.
Take a step . . .
Be honest with yourself:  Are you living carnally or spiritually? Jesus is waiting to have a relationship with you. He is waiting to give you the abundant life you long for. Ask Jesus to come into your life and change you from the inside. He will help you in your human relations.
This is a summary from Dr. Brandt's message Growing Up – 1.
Click here to read the transcript or to listen to this audio.
Want more? Click here…
Find life-changing insights arranged topically by need
Listen to dynamic audio messages by Dr. Brandt
Experience freedom and healing from sin problems