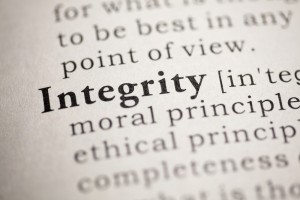 "I was shocked," said Calvin Lane, though as he spoke I sensed his shock had turned to bitterness. "My uncle was a deacon in the church, but the first time I accompanied him to the company convention, he led the way in painting the town."
In the course of five years, Calvin had come to wonder whether a commitment to the Lord actually meant anything. The inconsistencies he observed made him wonder.
"I think I've had all the Christianity I want," he added.
About a year after he learned of his uncle's double standard of living, Lane was even more shaken by an act of his pastor. The minister who had been his Christian ideal for many years was arrested on charges of embezzlement.
He often thought about his uncle and the pastor, but did not permit his disillusionment to deter him from entering the Lord's work. He became bookkeeper for a Christian service organization. He found happiness in the things the organization did in the name of Christ.
After three years, Calvin Lane was made personnel director. This put him into the inner circle. The jealousies and intrigue he discovered there brought all his old disillusionment back.
"If we're going to live like the world, why weigh ourselves down with Christian ethics?" he asked.
I had to admit that there are hypocrites in the church – and once-sincere persons who have drifted from God's ways. "The Apostle Peter was one of these," I said, "and Judas betrayed Christ. None of the Twelve was an ardent follower in Christ's great hour of trial. But Jesus never said to put your trust in a disciple."
I referred him to Romans 14:12, "So then every one of us will give account of himself to God." That helped him let go of his bitter attitude. He saw that he had been judging Christianity by phonies. When he accepted his own responsibility—which was his relationship to God—he dedicated himself anew to serving the Lord.
On the other side of the coin, the unchristian lives of many Christians that nearly caused this young man to abandon his faith should make every believer search his life to see if he dares say with the Apostle Paul in Philippians 4:9, "Those things, which you have both learned, and received and heard, and seen in me, do."
The names and certain details in this true case history have been changed to protect each person's identity and privacy.