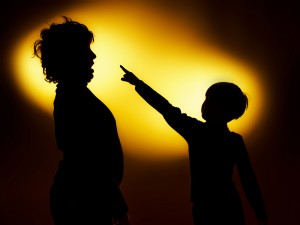 Someone once said to me, "Don't make parenting so difficult. Just relax and have fun! You don't have to know everything in order to be a good parent."
Being a parent starts out as a dream. Doting, expectant fathers and their pregnant wives dream about the sweet infant all cozy in pink or blue blankets with cute outfits and fun toys. With smiles in their eyes, they turn to each other and vow, "We're going to be the best parents ever!"
Then the baby arrives. Suddenly the parents discover "the dream" yells. And smells. And spits. All at 3 a.m.
Our baby cried and often was unable to be comforted. In the early months, we slept little at night and very little during the day. My wife got up one night at about 3 a.m. for the about the fourth time! Still asleep, she picked up the little bundle and began patting her back saying, "It's okay, honey." To her surprise, she was holding a pillow she had taken out of the closet, and our baby was still in her bed screaming at the top of her lungs! It's enough to make a grown man cry–or even worse. I can remember taking our squalling baby, shoving her toward my wife one night and saying, "You take it!"
It is humbling to realize that what you thought were wonderful parental instincts cannot always be counted on when you need them most. The English poet, John Wilmot, once said: "Before I got married I had six theories about bringing up children; now I have six children, and no theories."
Imagine a big man letting a tiny baby make him angry! Yet it happens all the time. Children's antics will stir up what is in your heart. If there is anger, impatience, selfishness, meanness, malice, cruelty, or partiality in your heart, children will bring it out for display. Although it is not often considered to be a benefit of family life, children will help you stay up-to-date on your spiritual condition.
Sensible couples–and single parents–start out planning for their family to be the best ever, but then discover that the work has just begun. In all my years of counseling, I have never had one parent or set of parents come to me and say, "Well here we are, Dr. Brandt. We are bursting with mutual admiration because we've succeeded at reaching our goal. Our objective was to create an intolerable situation for all of us. Now we've done it: We have created the perfect mess we strived so hard for. We all can't stand each other."
Of course, people do not set such goals. Many good people start marriage and parenting with the highest of hopes and end up hopelessly at odds. The idea of personal freedom becomes their goal and marriage and parenthood become a nightmare with no apparent solution. But Jesus approached this attitude in the Bible by saying: "If anyone desires to come after Me, let him deny himself" (Luke 9:23).
The life of a parent is full of choices about how each will respond to the other parent and how he or she will respond to their children. Your attitudes and actions will be a reflection of the strength of your relationship with God. If you have a close relationship with Him, your responses will be much more Christ-like and will grow more so each day. On the other hand, your responses will be empty and selfish if you are self-centered instead of God-centered.
The opportunity for self-discovery lasts for at least twenty years. For some parents, this is good news. For most, this is a scary thought. Why? Because we may not like what we see. At the office, we can look good most of the time. At our community activities we can appear pretty much in control. But we cannot pretend twenty-four hours a day in our own home! By its very nature, parenthood will not allow us to hide the worst side of ourselves. And worse yet, we certainly would rather not see our faults mirrored in our children's lives. The answer is repentance and seeking God's Spirit in our lives.
Our example can have dire effects on our children. This was true for Mrs. Greene when she had the rude awakening of seeing herself in her teenage daughter. By observing her mother over the years, Laurie had learned Mrs. Greene's means of control well. When Mrs. Greene wanted to move and her husband did not, she managed to find so much to criticize about the house that the family ended up moving.
Then after the family moved into their new home, Mr. Greene thought they could not afford new carpeting, but his wife proved they could by talking about it every day. She also talked her husband into installing an extra phone line for Laurie. Then, when Mrs. Green wanted to exchange a long-planned camping trip for a trip to a resort, she pouted until everyone else in the family came around to her view.
Mrs. Greene did not appear to be a demanding woman. Appearances aside, though, with full consciousness of her methods, she imposed her will on others, either subtly or directly.
Her now teenage daughter, Laurie, went her own way, ignoring her father and working around her mother's dominance. Her wants were seldom out of line, so there were few conflicts … until Ray came along.
"Raymond isn't good enough for you," Mrs. Greene proclaimed. (Not a good opening for this discussion.)
"Why do you say that?" was Laurie's response.
"He's not a Christian," her mother replied. "And he'll never hold down a decent job." (Not a good continuing remark.)
"But we love each other," insisted Laurie.
Her persuasion ineffective, Mrs. Green flatly told Laurie that she was not to see Ray anymore.
"But I will! I will!" screamed Laurie.
And Laurie did. Mrs. Greene brought to bear every device she had ever used to control a situation. She cried, she threatened, she went to bed with headaches, she tried shaming Laurie, and she told Ray she did not approve of Him. But Laurie refused to budge.
Mrs. Greene asked her husband for help. But long ago he had learned to be neutral.
Then Mrs. Greene came for counseling, asking me to make Laurie see the error of her way.
After I heard the story, I told Mrs. Green, "You seem to have forgotten the truth of God's Word, which says: 'Do not be deceived, God is not mocked; for whatever a man sows, that he will also reap.'"
"You have trained your daughter well by your example of getting what you want, in any way that it takes to get it. When Laurie stubbornly resists, you are seeing yourself in your daughter. Because you have molded her, only God can break that mold. You will just have to wait to see if He does this in spite of the foundation that has already been laid."
I also explained to Mrs. Greene that parenting through intimidation and manipulation is not an appropriate means of guiding a child. By this time, Laurie should have known that it was not a good choice for her to date a man who was not a Christian.
Rather than trying to manipulate her daughter, Mrs. Greene could have lovingly taken her daughter to the Word of God and shown her how this could not have been the will of God for her to be unequally yoked with an unbeliever. However, this ground work needed to have been laid long ago.
Teen years do not sneak up on a parent. It takes a child thirteen years to become a teenager. Thirteen years is a long time, and the relationship established between parents and children in the earlier years will determine whether or not the teen is prepared to make choices that are based on godly examples and principles.
God will have touched the heart of parents many times to pray for their children in those thirteen years. Sadly, many parents do not take the time to pray for their children until the children are adults. And prayerlessness will leave its mark. Parents who have prayerfully worked together as a team will have established a foundation of good communication between themselves and with their child. God will be at the center of their family, if He is at the center of the life of each parent.
By the time a child reaches the teen years, his parents will have had ample time to develop some firm convictions about the need to train, correct, and supervise. On the other hand, if parents remained divided on these issues, a teen's growing resistance to limits will bring these uncertainties and division to light.
Teenagers will not respect parents who lack conviction or are unable to agree on decisions related to the child. The good news is that all hope is not lost when parents do not find resolve until the child reaches the teen years. God can answer prayers and intervene, and it is possible for parents to regain the respect and cooperation of their children if they begin to demonstrate their conviction to abide by what they have determined is best for each child.
Serious parents do not wake up in the morning planning to make their child's life miserable! No, it does not work that way. When the alarm goes off, it is just the opposite. "Today will be different," the mother vows." It will be a great day. No screaming, no impatient orders, no arguing."
As Mom is making her vow, a situation is developing in the hall outside the bathroom. Her son is beating on the door."Hey, you've been tying up the bathroom for half an hour. Do you think you're the only one who has go to school?"
"Oh, shut up!" comes the answer from his sister. "If you want to use the bathroom, why don't you go down in the basement and use the bathroom down there?"
And so the argument continues, with both of them yelling from their own side of the door.
Mom comes on the scene and finds herself in the middle of a battle. Several screams, protests, and mutterings later, she has settled the controversy, but now she is irritated and upset. Yet only minutes before, she had vowed that this would be a perfect day.
Often the same happens for the well-intentioned Dad. Just before he pulls into the driveway as he comes home from work, he vows, "Tonight I'm not going to be a grouch. Tonight I'm going to have fun with the family."
Suddenly, in spite of his many lectures, he finds that his pathway to the garage is blocked by two bicycles parked in the driveway.
He parks the car halfway in the driveway and halfway in the street. Leaving the engine running, he abruptly gets out of the car and runs toward the house. He is hardly in the front door before he is after everyone in sight, "How many times do I have to tell you? Get those bicycles out of the driveway!
Dad is out of control. He continues yelling, turning on his wife. Without one loving gesture or question, he lays into her as well. "I thought I made it clear that bicycles should not be parked in the driveway." And the fight is on.
But it does not have to be this way! There is a reason for this behavior and a solution. The answer is found in the Bible. This may be a source you have previously rejected.
What you really want for yourself–joy, peace, love, unselfishness, kindness–is described in the Bible as God's will for you! Yet, everyone misses the mark. This is described in Romans 7:19-20: "For the good that I will to do, I do not do; but the evil I will not to do, that I practice. Now if I do what I will not to do, it is not longer I would do it, but sin that dwells in me."
Did I use the wrong word? It is an ugly word in a sense. Before you dismiss it, though, think for a minute. Even though you may not like the word sin, it is an accurate description of the cause of the problems we have been addressing.
It is important to note here that other people's behaviors do not excuse our own sin. Our own peace of mind is not dependent upon someone else's choices, behavior, or moods. Each one of us needs to have our lives and wills united with Christ. Without Him we will find ourselves powerless to exude joy, peace, and gentleness in the face of disagreements, bathroom fights, bicycles in the driveway, and crying babies.
God's Word describes and proclaims our need for the Savior and for a personal and intimate relationship with Him. We were not designed to live a contented life apart from Him. Each one of us needs Him at the center of our lives. Marriage and parenthood clearly reveal our desperate need for Him.
God has a plan to save you from yourself, from your sin. You have everything to gain and nothing to lose from Him. This is what you are yearning for. Let God give you what He has promised. Your reactions toward your family will change when you have hidden yourself in Him, allowed Him to hear you, and prayed for Him to reveal to you the deep roots of sin that you cannot see by yourself.
The Bible describes the problem and its cause, but it also spells out a solution "O wretched man that I am! Who will deliver me from this body of death? I thank God–through Jesus Christ our Lord!" (Romans 7:24-25).
This is a name that sometimes makes people see red–Jesus Christ. They may mistakenly associate Him with unreasonable demands, punishment, or guilt. But the reality is that Jesus Christ came to give us life! "For God did not send His Son into the world to condemn the world, but that the world through him might be saved" (John 3:17).
Jesus said: "I am the way, the truth, and the life. No one comes to the Father except through Me" (John 14:6).
We must start by recognizing that we have sinned. We agree with God that our sins have separated us from Him. Then we must trust Jesus as our own personal Savior and confess our sins to God. We must then repent of these sins. Confessing is acknowledging our sin; repenting means we have a changed mind. We have determined that our lives will be changed and we have a plan and resolve to live differently.
Why settle for anything less? God can change your reactions to life. He can give you the resources you need to have a truly abundant life. As you spend time with Him, He will reveal deep areas of sin in your heart and life that you need to confess and turn from. When this happens or when you see you have not responded in a way that He would respond, repent and ask God to change you. Thank Him for His wonderful mercy, grace and love. He will give you joy and peace as you parent!