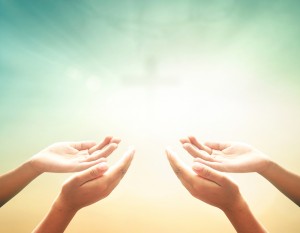 Are you experiencing peace in your life? If so, what is the source of your peace?
We often work hard to attain things in this world–money, education, homes, vehicles, and the list goes on. Then once attained, we often ask ourselves, "Is this all there is?
We try to gain peace by losing ourselves in a book, working hard in the yard, exercising, watching a good movie, or even possibly by turning to alcohol or drugs to dull our inner frustration. But these things only lead to a false peace. A peace that doesn't last.
True peace only comes from Jesus Christ. In striving to attain the accomplishments, enjoyments and possessions of this world, we've repeatedly bypassed what Jesus wants to give us, and that is peace in our hearts.
The peace that Jesus offers you is a lasting peace. He says in John 14:27 "Peace I leave with you, my peace I give unto you: not as the world giveth, give I unto you."
Jesus is telling us that there are two kinds of peace: His peace and the world's peace. He is asking you not to turn to the world that He made for peace, but to turn to Him. His desire is for us to be a peaceful people on this earth–relaxed, untroubled, and unafraid. He knows well the troubled world we live in, and the fears that plague our hearts, and so He instructs us to put our trust in Him, saying, "Let not your heart be troubled, neither let it be afraid" (the remaining part of verse 27).
Jesus offers us so much if we just choose to give our lives to Him. In John 1:10-11 the Bible tells us, "He was in the world, and the world was made by him, and the world knew him not. He came unto his own, and his own received him not." Jesus was rejected by His own people! The greatest power on earth, and folks turned their backs on Him!
Sometimes people want the benefits of being a part of God's family, but don't want the responsibilities that go along with it. Are you one of those individuals who wants all the benefits of being a Christian, wants to be in God's family, but doesn't want to be involved with God?
Don't accept a low level of Christianity, allowing yourself to be too busy with the things of this world to take time for Jesus. Allow Him to help you experience His peace, His joy, His comfort. Get involved with Him. Let the fruit of the Spirit that He wants you to experience come alive in your heart: love, joy, peace, gentleness, kindness, goodness, faithfulness and self control.
Open your heart to Christ. Open your life to His peace.
Take a step . . .
Take some time to inventory your priorities. What is most important to you? Are you putting Jesus Christ first in your life every day? What changes do you need make in your life in order to have Jesus Christ as number one? Ask God to help you to experience the peace that only He can give.
[This summary is from Dr. Brandt's message
The Pathway to Peace
.
Click here
to read the manuscript or listen to this audio.]
Share your thoughts about this article to download free resources: Send Comment