THE EVIDENCE OF PRAYER IN OUR LIVES
What can you say? The conclusion I came to is contained in a Bible verse:
As the heavens are higher than the earth, So are My ways higher than your ways, And My thoughts than your thoughts. (Isaiah 55:9, NKJV)
There were many, many people who were united in requesting that Eva should live. There were many people praying for the success of that business venture.
One must conclude that none of us were thinking God's thoughts, nor did our wishes fit with His ways. This requires all of us to search our hearts daily to be sure we qualify to speak in Jesus' name.
In Chapel News², Knute Larson wrote on prayer, using a good visual aid that helps explain our interaction with God in the area of prayer:
Two circles explain how prayer works in a simple way.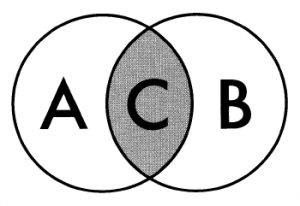 "If you ask anything in My name, I will do it."

John 14:14, NKJV
Area A is prayers that are not answered, possibly because we ask selfishly.
And even when you do ask you don't get it because your whole aim is wrong—you want only what will give you pleasure.

(James 4:3, LB, emphasis added)
Area B is blessings or things God would do for us if we just asked. The Bible tells us why we don't have them:
The reason you don't have what you want is that you don't ask God for it.

James 4:2, LB
Intersection C shows answered prayers in line with God's will.
I can recall some glib prayers that I have prayed, such as asking God to help me keep my priorities in order or to help me place my family and the things of this world in proper perspective. I've asked God to use my life and all that I have for His glory. If I expected any answers, I didn't expect the ones I received. But death and financial loss did get my attention. And my experience with prayer over the years has grown to recognize peace, the peace only God gives.